Tuition fees vary for each course, depending on the subject area and course level. Subjects that involve lab work usually have a higher tuition fee than lecture-based subjects, and postgraduate courses are normally more expensive than undergraduate courses. Tuition fees also reflect the point value of the course, so that a 30-point course fee will be twice the fee of a 15-point course in the same subject area and level. Each course is assigned to a Tuition Fee Band according to its subject area and whether it is at undergraduate level or postgraduate level, as outlined below.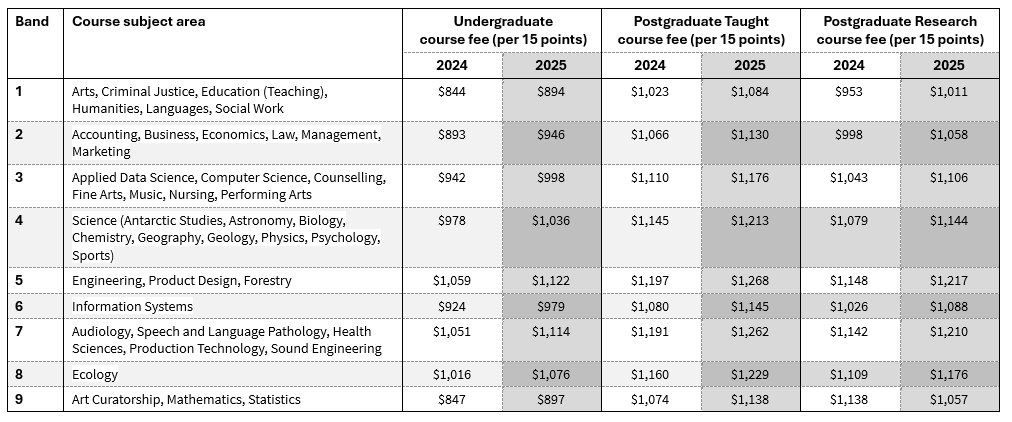 Tuition fees estimate by qualification
You can estimate your tuition fees for the year by adding the individual course fees (found on the Course Information pages) for each course you intend to take or you can use the Fees Estimator. Otherwise you can find your qualification below to see an estimate of how much your tuition fees are likely to be for the points value shown. 
Tuition fees are reviewed annually and are subject to change so if your qualification takes more than one year to complete, your following year's fees will be at a higher rate.  The prices below are indicative only and UC reserves the right to change these published fees before enrolment to reflect any changes in Government or University Council Policy. See Enrolment and Fees Policies and Regulations for more information.
Paying your tuition fees

Fees are paid at the commencement of your study each year and your enrolment is not complete until your fees have been paid in full. There are a number of ways to fund your studies and several payment methods.
Your Enrolment Agreement will include a Statement of Fees with the exact amount to pay - including tuition fees, the Student Services Levy (SSL), and any other course-related costs. Failure to accept your Enrolment Agreement by the deadline may also incur a Late Enrolment Fee that will show on your Statement of Fees. 
Your fees total on your Statement of Fees must be paid in full before your enrolment at UC can be completed, and you risk losing access to course content and assessment if you do not arrange payment within two weeks of your course start date.