Bachelor of Psychological Science
Introduction
The Bachelor of Psychological Science (BPsycSc) offers study in all disciplines within psychology - the field of human thought, growth, and capability.
You will examine how our brains function, and how and why changes in our environment, culture, relationships, and more can influence our behaviour and overall wellbeing. Through a minor subject, you will focus your study in a particular area of psychology - from brain and behavioural disorders to workplace and forensic psychology.
This degree will build foundational skills in psychological research and practice to prepare you for a career within scientific, healthcare, legal, or social sectors and beyond.
Bachelor of Psychological Science
What will my study involve?
Explore the human mind and how this affects everything about our behaviour, identity, and interactions with the world.
Develop your observational skills, technical and lab abilities, and ethical knowledge of psychology practice as a professional career.
Choose from specialised minors and customise your degree in areas such as neuroscience, mental health, and forensics and criminal psychology.
Learn from industry professionals throughout study and complete a final-year work experience course based in the community.
Bachelor of Psychological Science
Entry requirements
Admission to UC with University Entrance (or equivalent) is required to enrol.
If English is your additional language, you are also required to meet UC's English language requirements.
See Admission and enrolment for all information on enrolling at UC.
Recommended preparation
This degree is open to anyone who meets entrance requirements to UC and no particular study background is required.
A passion for learning about human psychology and behaviour or in supporting mental wellbeing is the best preparation for study.
Bachelor of Psychological Science
Subjects and courses
The Bachelor of Psychological Science has introductory and specialised courses in different areas of psychology, including a final-year community project course.
As well as the core Psychology courses throughout the three years of the degree, you will also study towards a minor, and have the option of adding a second minor.
See 'Planning my degree' below for an example degree structure diagram.
Compulsory courses
Year 1
Year 2
Year 3
PSYC377 Psychology in Action - Bridging Theory and Practice
Minor subjects
You may also choose to complete a second minor in your degree, from either one of the Psychological Science minors above, or the following options:
Elective courses
If you choose to only complete one Psychological Science minor in your degree, you can choose elective courses from the following subjects:
Bachelor of Psychological Science
Further study
UC offers a number of postgraduate programmes in psychology, including research degrees, clinical practice, and qualifications leading to registration as a practising psychologist in Aotearoa.
Bachelor of Psychological Science
Career ready
Gain real-world experience with a final-year project working with community and industry partners.
Learn the necessary in-depth skills to improve mental health and wellbeing, communication, scientific research, and your own professional identity.
Graduates work in psychology and healthcare, in local and central ministries, and non-governmental organisations.
Find out more about what can you do with a degree from UC.
2024 tuition fees estimate (per 120 points):
Domestic — $7,448
International — $38,275
---
SSL estimate (per 120 points):
Bachelor of Psychological Science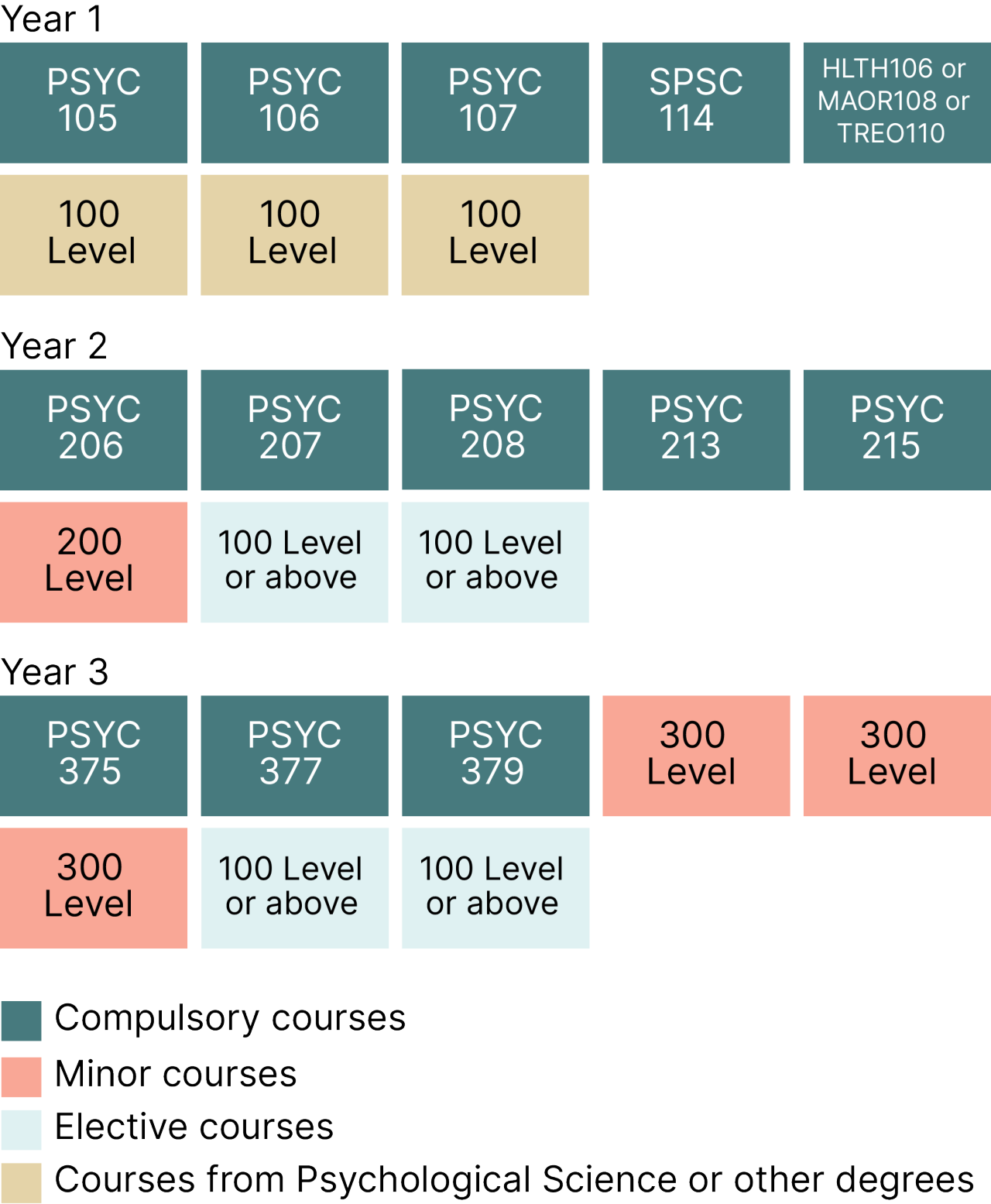 Each small block represents a 15-point course. However, some courses may be 30 points or more.
This diagram is an example only – other combinations are possible.

Bachelor of Psychological Science
How do I plan my degree?
The Bachelor of Psychological Science requires a minimum total of 360 points:
195 points of compulsory core courses
60 points towards a Psychological Science minor
at least 60 points towards either a second minor or elective courses
the remaining points at 100-level can be from either Psychology courses or courses from other degrees.
A minimum of 90 points of courses must be at 300-level.
The degree takes 3 years of full-time study, or can be studied part-time for up to 10 years.