Home

>

UCGo

>
Welcome to UCGo
A mobile app for University of Canterbury | Te Whare Wānanga o Waitaha students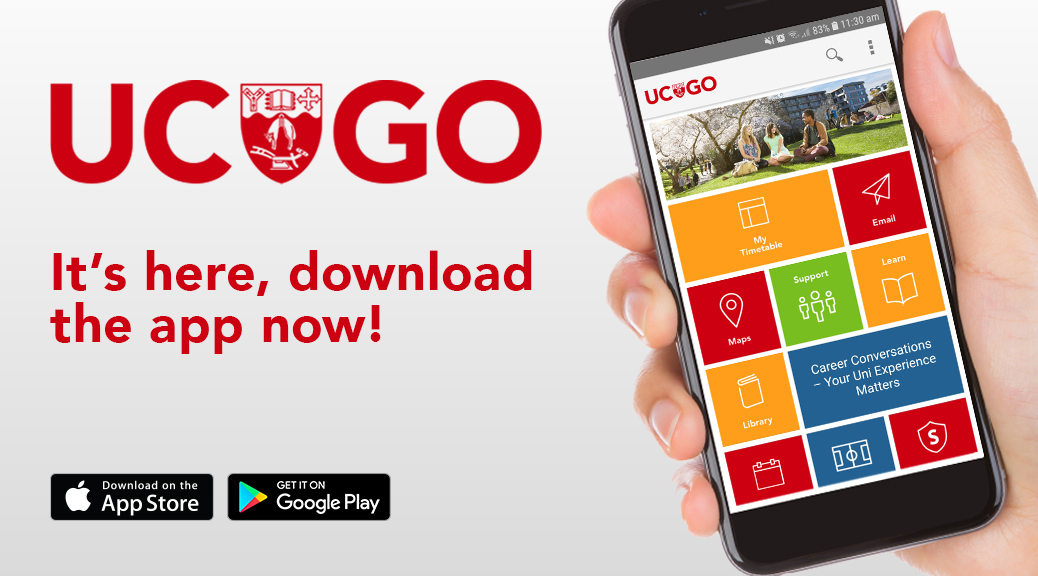 UCGo, a mobile app for students that will make organising and managing day-to-day study at UC easier.
UCGo provides personalised information to UC students on their mobile devices including student email, individual timetables and LEARN. As well as information on student services and security on campus, and class timetables at the RecCentre. UCGo functions include:
My timetable – see your personal timetable
LEARN – login to your LEARN account
Student email – access your student email
Library – see open hours and look for journal articles, books and more.
Campus safety – how to contact UC Security and report a hazard or emergency
Notices – see what's happening on campus
Student support – support services available on campus
RecCentre – access open hours and group fitness timetables
Campus maps – find your way around campus
Push notifications – will only be sent during campus-wide emergencies
Install
Download UCGo from the App Store or Google Play.
Frequently Ask Questions
What does the app do?
The app combines a number of tools students use daily into a user-friendly app. See functionality above.
How do I download the app?
Simply search UCGo in the Apple App Store or Google Play. Or open this page on your phone and click the button above.
If I am having trouble downloading UCGo, who can help?
Staff at the IT Service Desk in the Central Library (Puaka-James Hight) can help you to download UCGo.
Can I personalise the app on my phone?
You can rearrange tiles to make the ones you use more often easier to find. You can also turn off functions you don't use.
Will I receive a lot of push notifications through UCGo?
No, push notifications will only be sent if there is a campus-wide emergency. We encourage users to keep push notifications activated.
Can staff download and use UCGo?
UC staff will be able to download and log into UCGo using their staff login, but will have limited functionality.
Will I be able to log into my staff email using UCGo?
At this stage staff will not be able to access their @canterbury.ac.nz email accounts through UCGo.
What will happen to the UC Finder app?
In time UC Finder app will be removed, but you can access campus maps on UCGo and track a route to where you want to go.
Why does UCGo require permission to access to photos/media/files and camera on Android devices?
Downloading UCGo on Android requires permission for photos/media/files to support saving documents for offline review. Camera permission is required to support QR functionality.
Does UCGo collect any personal information from my device?
The UCGo app complies with University of Canterbury | Te Whare Wānanga o Waitaha's Privacy Policy. It does not gather any personal information which is not directly related to functionality within the app.
If you have any feedback on UCGo, please contact communications@canterbury.ac.nz